Produce Advisory Committee
While the project goal ultimately is to inform decisions of individual growers, harvesters, and packers, we recognize four groups in the food chain whose activities impact the decisions of growers and packers:
1) Regulators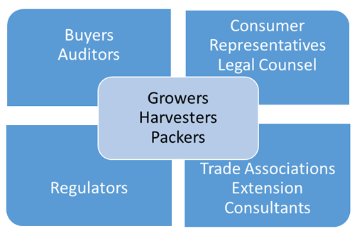 2) Buyers and Auditors
3) Consumers and Lawyers
4) Trade Associations, Extension, and Consultants.
We are partnering with representatives from these industry groups to form the Produce Advisory Committee (PAC). Members interact with the project team and use the results to provide risk-based evidence for their activities and interactions with growers, harvesters, and packers.
The PAC plays a key role in developing protocols for handling industry data, acquiring data on current industry practices, disseminating surveys, reviewing proposed research to ensure focus on practical implementation strategies, and working with the extension/outreach team to incorporate new findings into industry sponsored outreach and training programs. Input will be sought to identify priority problems that need to be addressed and identify solutions that are considered appropriate for these problems; oversee the monitoring and use of industry data; estimate intervention costs; and inform how decisions can be based on project outputs, etc.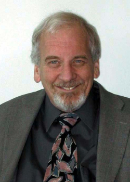 The PAC is chaired by Dr. Robert Buchanan, Professor Emeritus at University of Maryland. As Principal Investigator (PI) of a previously funded SCRI project on produce safety, which involved the Project Director (PD), and many of the Co-PDs, PIs and Co-PIs, he is dedicated to participating in this project and support a successful approach.
We are thankful for the participation and contribution from our PAC members representing the food and produce industry: