About CONTACT
The Specialty Crop Research Initiative (SCRI) grant CONTACT was funded by USDA in 2020 for four years. This project was specifically developed to respond to a critical national problem that is dramatically affecting specialty crop producers and processors: food safety and implementation of new FSMA regulations.
The objective is to assess health, economic, and risk impacts of food safety systems in consultation with the produce industry, regulators, a national network of extension specialists, and world expert leaders in produce safety.
The goal is to identify the most important factors that drive food safety risks and help the specialty crop industry to
1) Develop and validate scientifically supported food safety metrics that are applicable in a variety of growing regions, commodities, and farm sizes;
2) Provide scientific and technological knowledge to develop metrics important to enhancing produce food safety;
3) Identify improved approaches and techniques that allow the attainment of the metrics to be verified and cost effective.
This project will focus on seven objectives along the agricultural system to develop and implement decision-making tools to enhance produce safety. The project is highly integrated, with stakeholder input guiding the goals, risk assessments, economic analyses, and extension activities, as well as providing an ongoing platform for stakeholder interaction.
Specialty crops are facing increased pressure due to the shift from hazard-based to evidence- and risk-based approaches, and from the use of new and advanced rapid detection tools for outbreak investigations. Risk assessments that can evaluate the effectiveness of risk mitigation strategies on produce chains are rare.
Economic evaluation of the costs of produce related illness and costs of compliance with food safety regulations are limited. There is a critical and urgent need to evaluate the cost-effective risk management approaches to enhance economic viability of produce industries while also reducing outbreaks and recalls.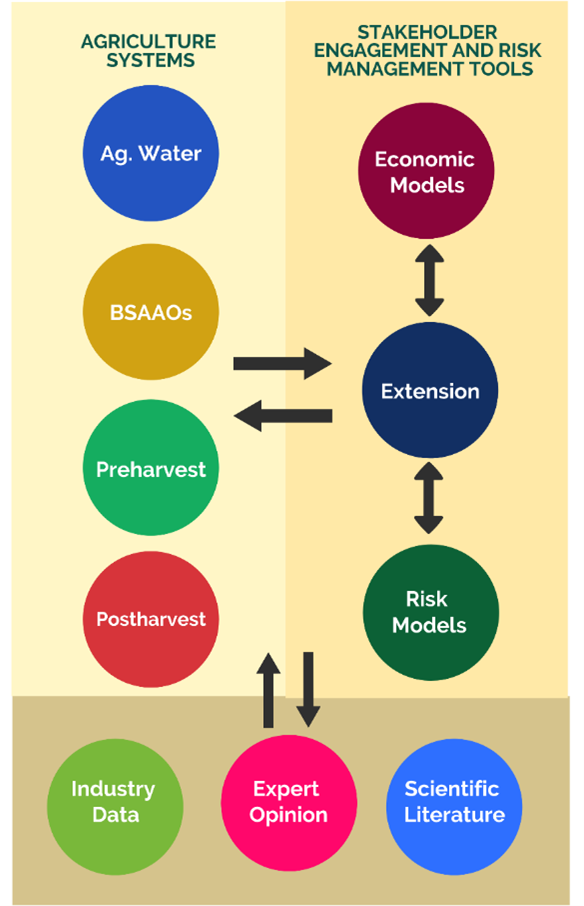 Achieving these goals is critical for specialty crops as produce-borne outbreaks and food recalls have caused serious public health problems and devastating economic impacts to individual businesses which extend across the produce industry.
The project management team, consisting of objective and location leads across 9 land grant universities and one federal agency, is led by the project director (PD) Dr. Michelle Danyluk. Location leads are designated for each institution, objective leads assist the PD with the development of milestones, performance metrics and deliverables for their activity team. The Produce Advisory Committee was established to help identify priority problems and ensure focus on practical implementation strategies.
Get to know who is involved and How to Reach Us.
Learn more about the Objectives.
Meet the Produce Advisory Committee.
Find additional Resources.